What Are KLOwen Custom Braces?
KLOwen custom braces are prescription digital braces tailor-made made to fit your teeth. Created by orthodontists for orthodontists using ground-breaking software and custom 3-D printing, they're designed to help you reach your new smile sooner, with less hassle. Say goodbye to goopy impressions, loose brackets, and tons of appointments, and say hello to shorter treatment times, better fitting braces, and a direct route to a smile that's all you.
Bakersfield's Only KLOwen Custom Braces Provider
We're the first orthodontics office in the world to offer an in-house, fully digital KLOwen braces solution. That means we create and place the braces right here in our office using Sprint Ray 3-D Printing technology.
Dr. G is a nationwide leader in KLOwen custom braces and Sprint Ray 3-D Printing technology, helping other orthodontists recognize its benefits and implement it. We're bringing better braces to the world, starting right here in Bakersfield.
What Makes KLOwen Custom Braces Better?
Gone are the days of dial phones, cassette tapes, and one-size-fits-all braces. KLOwen, winner of the first ever Ortho Innovator Award, makes braces for the digital age. These braces are made on a case-by-case basis for each patient using digital software and 3-D printing.
As a result, they fit better and are more comfortable than other braces, requiring less appointments and shorter treatment times so patients don't have to put their lives on hold. Perhaps best of all, these braces can be produced in-house at each individual orthodontics office.
KLOwen's custom braces make our job as orthodontists a whole lot easier. But what are the benefits for you? Here are just a few:
Less missed school and work
Less discomfort
Less time in braces
No more wearing braces for two to three years, having a mouth full of bulky metal, and suffering through endless tightening appointments. The future of orthodontics is here and KLOwen braces are the new digital solution.
Get Ready for Smiles: Step-by-Step Custom Smile Creation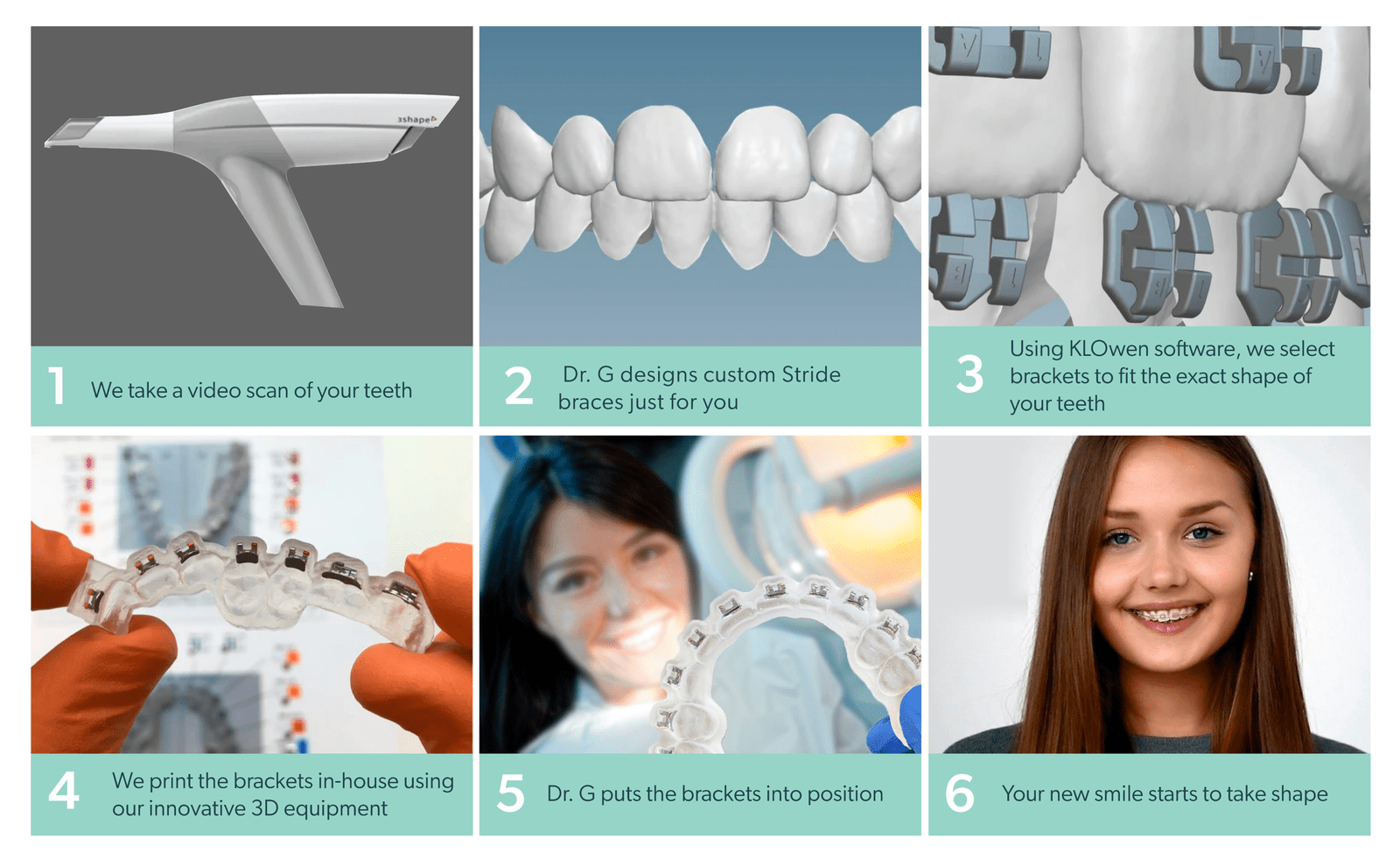 What Our Patients Are Saying
The best orthodontics team in town! Friendly, helpful, knowledgeable, professional and highly skilled ⭐️⭐️⭐️⭐️⭐️
-Jocelyn D.
What Our Patients Are Saying
Professional staff and friendly, concerned dentist! Really connects with patients and families!
-Zainab H.
What Our Patients Are Saying
Experienced. Modern. Confident. Respectful. Clear communication. Five stars!
-B. Minor

KLOwen Custom Braces FAQs
What is the difference between KLOwen custom braces and traditional braces?
Traditional braces are one-size-fits-all. KLOwen custom braces are tailor-made for your teeth. As a result, these braces are more comfortable and require fewer adjustments.
How long will I have to wear KLOwen braces?
Teeth move at a certain biological speed, and no special type of braces can change that. But while traditional braces usually include extra, unnecessary movement, KLOwen braces move the teeth directly from point A to point B. This shortens treatment time nearly in half.
How often will I have to see an orthodontist while wearing KLOwen custom braces?
You'll have appointments about every eight to 10 weeks. To put that in perspective, traditional braces usually require 12 to 14 visits over a 24-month period. With KLOwen braces, you can skip three to four of those visits, and your treatment time will be shorter.
How much do KLOwen custom braces cost?
Our KLOwen braces cost the same as traditional braces. We can give you a more exact pricing estimate at your consultation.
Do KLOwen custom braces work for teens?
Absolutely. With KLOwen braces, teens won't have to miss as much school as they would with traditional braces.
Are there any restrictions on things I can eat while wearing KLOwen custom braces?
Yes. Just like you would with other braces, you'll want to be careful about eating foods that could get stuck in or loosen your braces. These include hard, sticky, chewy, and crunchy foods.
Will I need retainers after my KLOwen custom braces come off?
Yes. Full time retainer wear is essential for the first few months after getting your braces off. After that, you can wear your retainer at night for as long as you want to maintain your results.
Through a virtual consultation, you can chat with Dr. G from the comfort of your own home, discuss possible care options for your smile, and get answers to all your questions.